Montecarlo di Lucca is an enchanting jewel positioned between Lucca and Valdinievole. It is located in a hill that overlooks the surrounding area showing a unique landscape.
There are vineyards and olive groves for excellent guarantee of origin wine and extra virgin olive oil. At the beginning   it was just Montecarlo white wine, but now it is also red.
The historical center is very well preserved and it is surrounded by a wonderful town wall. Among all the town doors dating back to 13th century there are still the Florentine Door overlooking Florence, the Porticciola overlooking Lucca and the New Door  overlooking the south which was reopened at the end of the 16th century.  The stronghold with its perfectly preserved walls that date back to the 14th century together with the a bastion dating back to the 16th century both overlook the hamlet.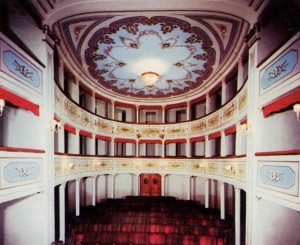 Other remarkable buildings are the Theater of the Academy of the Rassicurati, the Collegiate church of Saint Andrew whose façade and door are still perfectly preserved. Also inside the collegiate church  it is possible to find some interesting works of art. The building of the Institute Pellegrini Carmignani, which used to be a cloister of the Poor Clare Nuns is majestic. Also there is the old cloister of Saint Anna.  Along the road heading towards Pescia, there is the parish church of San Piero in Campo, a Romanesque Church dating back to 12th century.